The Sustainable Guide to Spring Cleaning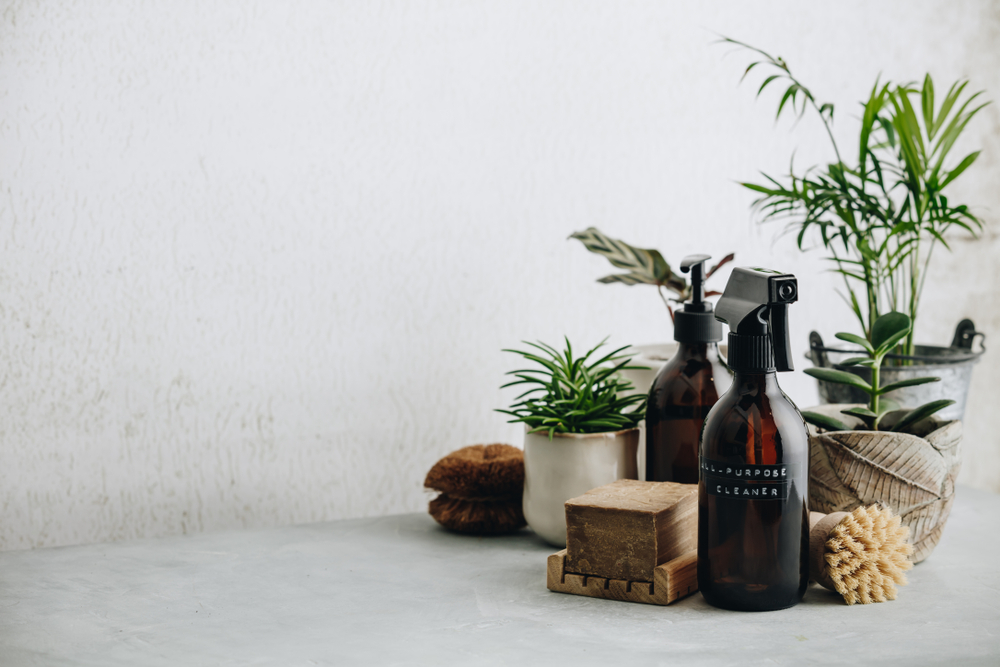 Spring is here! Greener ways to freshen up your home for the new season.
There's no better time to freshen up your home - especially as we've all been housebound for so long!
But with cleaning can come harmful chemicals, single-use plastic and more waste going to landfill. To keep the spring in your step, here are our top tips for making your cleaning a little greener:
DIY your own cleaning sprays
Many household cleaning products can contain harmful chemicals, as well as being packaged in plastic.
Did you know that you can make your own household cleaners with vinegar?
Spray vinegar onto glass and mirrors and polish off with newspaper for a sparkling shine. Marinate lemon peels in white vinegar for a couple of days to create a multi-purpose cleaning spray that smells citrus fresh. And the cut side of a lemon dipped in bicarbonate of soda also makes an excellent scourer to polish up those dulled pots and pans.
If you're not a fan of the DIY route, there are also plenty of eco cleaning products available to get your home sparkling.
Why not get your workplace involved, too?
Spring clean your wardrobe
A new season is a great time for a wardrobe refresh; but with each person in the UK dumping 1.7kg of clothing into landfill each year, there are more sustainable ways to brighten up your closet.
Any unwanted clothing that's still in good condition can be donated to your local charity shop, or to a vintage shop if it's a showstopping retro piece. While you're at it, why not see if they've got a new item to replace it with - here's our pick of Bristol's best pre-loved clothing shops.
If a much-loved item is looking a little threadbare, there's no need to ditch it - get out the sewing kit, and you may be able to make it as good as new (if not better!). We love this guide to giving your clothes a new lease of life through customisation.
For anything that's beyond repair, old clothes make the perfect household cleaning cloths - simply cut the fabric up into large squares, and you've got a pretty unique supply of dusters and wipes, which can also be popped in the washing machine and used again and again.
Any additional textile waste can then be recycled - here's how!
Opt for green and sustainable cleaning products
Traditional plastic-based cleaning tools not only often have a relatively short life before they are thrown away, but items like sponges also release microplastics into our waterways with every use, and can rarely be recycled.
You can cut down your waste by opting for reusable and compostable cleaning tools, like bamboo brushes and coconut scourers.
Check out the Plastic Free Shop's household essentials starter kit here for everything you need to cut down on plastic around the house.
Re-stock your supplies from a zero waste shop
If your newly-cleaned cupboards are looking a little bare, you can fill them up and save on packaging by making a visit to your local zero waste shop.
Bristol shops like Zero Green and Shoot for the Jars offer groceries and household essentials, without the packaging. Simply take along your own container, or borrow or buy one of theirs, and restock your cupboards without the plastic.
Choose local blooms
Few things feel quite as springlike as a fresh bunch of flowers. You can support sustainable florists by choosing locally-grown, organic and seasonal British flowers, to cut the harmful pesticides and high-emission miles.
Local florists like Pipley Flowers and Organic Blooms offer greener options - an easy way to help our biodiversity and support small local businesses.
Swap your cushions
Spring may be giving you the itch to update your home decor, but did you know that 90% of all home furnishings ending up in landfill?!
The clever Cushion Swap initiative from homeware brand Now, Sit Down allows you to send off your old cushions for recycling - as well as giving you credit to buy new ones. Genius!
Hopefully these tips have inspired you to take a greener approach to your spring cleaning. For more simple swaps and easy ways to help our planet, visit our Take Action page.