Getting back to work with James Durie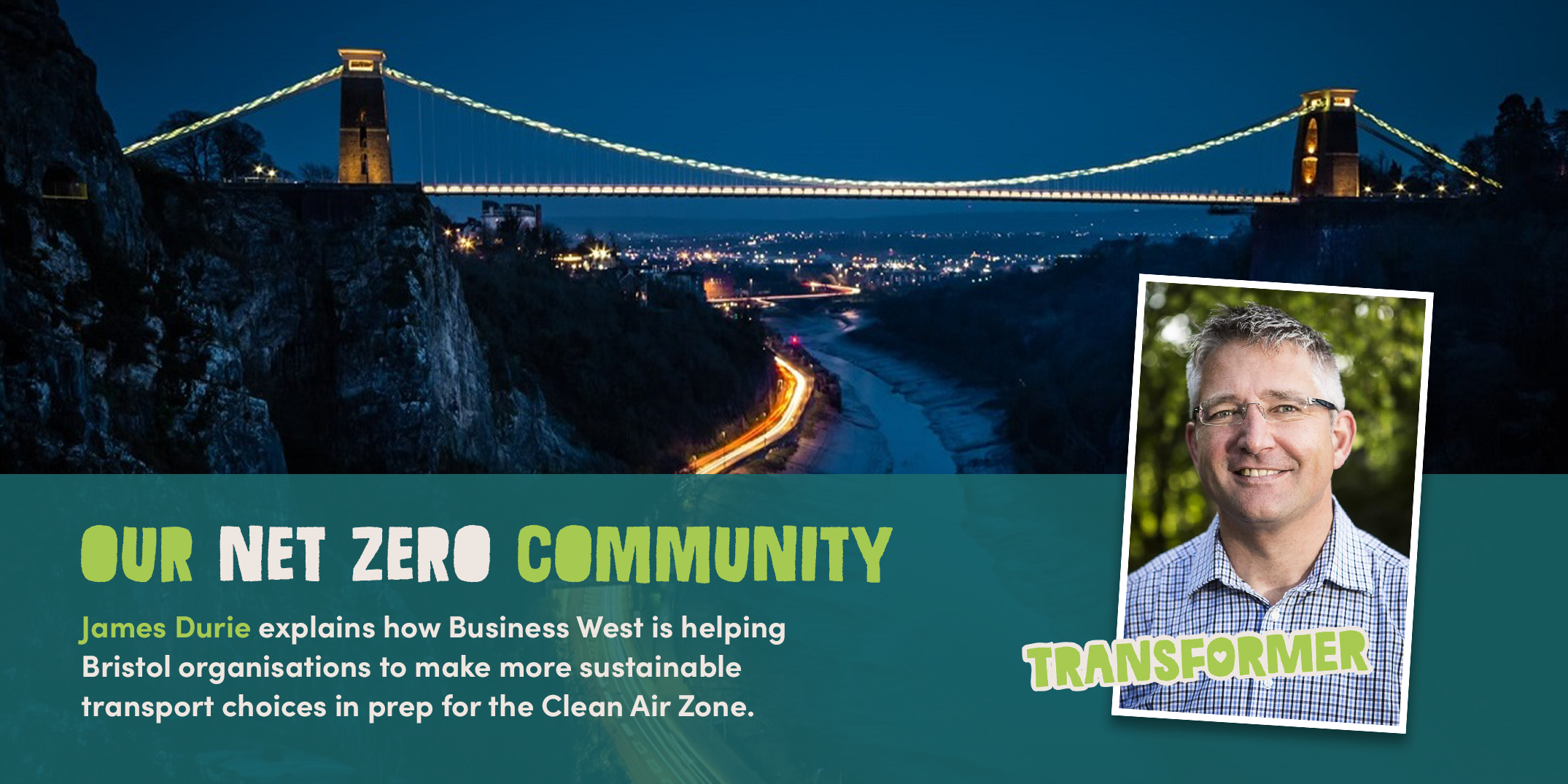 "If you could see pollution, you'd want to stop it" says James Durie, Chief Executive of the Chambers of Commerce & Initiative at Business West.
Despite the reduction in air pollution levels during the first lockdown, the early part of this year saw an increase in single car use, as people returned to the workplace but were encouraged to maintain social distance from one another.
As part of our Action Net Zero's 'Bristol's Driving Change' campaign, we caught up with James to find out about how Business West is supporting its 22,000 member organisations to make more sustainable transport choices as many employees transition back to work, ahead of the Clean Air Zone coming to Bristol next year.
"The impact of lockdown has made many people and organisations re-assess and they've realised that work isn't about physical presenteeism", said James.
"You don't have to be a slave to a daily commuting lifestyle, and I think the companies that get this will attract new talent and better succeed."
Current legislation states that any employee with more than 26 weeks of continuous service can make a request for flexible working, and lockdown certainly triggered new ways of living and working for many that has resulted in what we believe will be long-term changes for both employers and employees.
A survey conducted earlier this year by the British Chambers of Commerce, found that almost three quarters of the 900+ businesses that responded expected over half of their workforce to continue working remotely for the next year or so.
But for lots of companies, this is still fairly new territory, so the help that network organisations like Business West Chambers & Initiative can give to their members is invaluable.
"Businesses still need to be focused on outcomes, but that doesn't mean people need to be together five days a week." said James. "For lots of people, particularly office based, we've seen a shift so we're helping businesses by listening to what is and isn't working for them and encouraging them to talk to and learn from each other, so that they can share good practice and champion and adopt what's going well".
Business West members range from startups right up to larger corporations, across all sectors and industries, but all are united to make this region the best place to live, work and prosper. Along with tackling social deprivation and improving education and skills, Business West sees better transport choices and increased mobility as central to the region's overall economic growth.
But regional growth can only be achieved if the local economy is supported at a grassroots level and given an environment to flourish. Interestingly, a long-term vision plan '2050: High in Hope - A Business Vision for the West of England City-Region' published by Business West a decade ago highlighted the need for more agile workspaces or "work hubs" nearer to people's homes, which would help local businesses - such as cafes and shops - thrive; thereby reducing the environmental impact of systemic commuting practices.
The ideas and proposals in the vision have certainly been made even more pertinent by the pandemic. "It's very clear that the hierarchy is changing, and we're going to need to travel less in the future because we won't actually need and want to move around as much - but when we do, we'll hopefully be making choices that don't always mean just getting into a car".
James continued, "Other modes of transport, such as walking, cycling, scooters, car sharing and public transport need to complement each other rather than compete with one another. At Business West, we want and will be working to help ensure these transport modes integrate, improve and work together."
With regards to the Clean Air Zone which is coming in Summer 2022, James understands this is another change that Bristol-based businesses and residents will need to adjust to, having already been through the significant disruption and turbulence from the impacts of Brexit and the pandemic.
"We need to get to air quality compliance quickly and reduce air pollution, although it's important that businesses are supported through this change as there will be economic implications for many and potential displacement. There needs to be some very clear guidance and strong information communicated on why this is important, when it's happening and where to go for help and support. This is one of the major reasons why we've got involved with the Action Net Zero campaign, because it's helping give people and businesses the information they need to know to make a change."
Having bought his first EV (electric vehicle) - a Nissan Leaf - over seven years ago, James is very much an early adopter and champion of sustainable travel choices... although back in 2014. he initially shared the concerns that many have with regards to range and charging infrastructure.
"I was a bit reticent about the range myself, as my first EV had a range of only 70 miles, but it was never an issue as I discovered most of my journeys were actually really short."
Although the average range of an EV today is in excess of 200 miles, "range anxiety" is still common, despite the average length of a car trip being around 8.4 miles, according to research by the RAC.
"It was a very comfortable car and because you go straight into power, it's really quite nippy!" James laughed. "It was also cheap to run, as it cost about 3 pence a mile and there was no road tax to pay".
With no internal combustion engine, electric cars are a lot quieter on the roads than petrol and diesel cars. Although this is good news in terms of noise pollution, especially in built-up areas, pedestrians will also need to adjust to the increase of EVs on our roads. "You start to notice that a lot of people cross the road using their ears first before their eyes!", James observed.
While petrol and diesel car drivers can only get their fuel from a garage or service station, electric vehicle owners are able to charge wherever there's a charging point. And although it's not yet a common sight to see electric charging points in streets and driveways, it's certainly coming. In February this year, the government announced a £20 million pound investment to local authorities to increase the number of on-street charging points across the country.
With regards to charging his EV, James said "it's a bit like having a mobile phone, in that you charge it when you get home or while you're at work, or otherwise you find a way of building it into your lifestyle and routine."
Despite the pandemic, 2020 saw a 66% increase in electric vehicle registration in the UK from the previous year. And with no new petrol and diesel cars being manufactured beyond 2030, this exponential growth is only set to continue.
But switching to an EV is only one of a range of travel options for people and businesses to consider, as congestion can only be reduced if there are less vehicles on the road, and more people use other ways of getting around.
The Clean Air Zone coming to Bristol in 2022 may be the catalyst for some to ditch the car altogether and, although an EV-convert, James now chooses to travel around the city on his e-bike.
"EVs are definitely part of the future, but also having fewer cars or sharing cars is part of the future too", James reflected. "As it's shown that private cars sit idle for most of the time, wouldn't it be more cost-effective for many people to rent a vehicle at the point of need, and let someone else pay for the maintenance and storage and not have a car at all?"
Click here to find out more about Business West.