What are my sustainable transport options?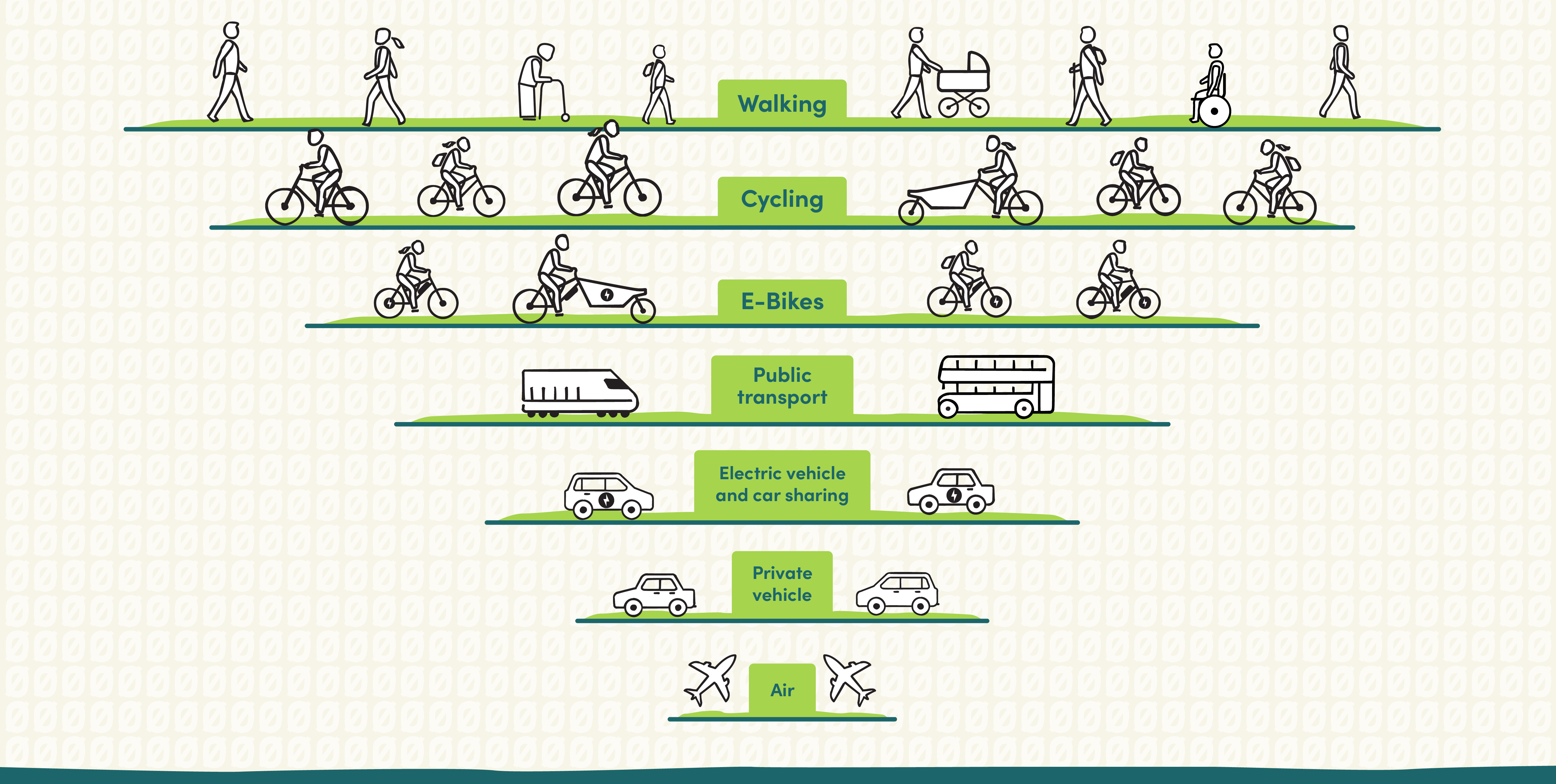 Whether it's a short trip to the corner shop, or a longer commute to work...
...our decision on how to travel and what form of transport to take impacts not just our own health, but the health of those around us, our bank balance and the environment.
Although originally developed as a town and city planning tool, the Transport Hierarchy model can be used to better understand the effect our travel decisions have on us and our environment.
Walk this way
The greenest, cleanest and healthiest way to travel is on foot (walking or running), followed by cycling.
During lockdown, the number of people walking or cycling instead of using other forms of transport increased so much in the UK that air pollution levels were nearly halved! In addition, downloads of the popular NHS running app Couch to 5k nearly doubled during the first lockdown compared to the same period the year before (source).
Walking, running or cycling regularly are great ways to keep physically and mentally fit, and they're a lot quicker than people think; you can walk a mile in around 15-20 minutes and cycle in just five!
Click here for more information on developing an "active commute". In addition, there are some great (and fun) tips on how to incorporate more walking into your day on the Living Streets website.
A bicycle made for you
During lockdown, the number of people getting on their bike doubled, and the West of England Combined Authority has since allocated £13m to invest in better measures for walking and cycling in the region.
Bristol already has an active cycle community, and a lot of the city centre is bike-friendly, with a network of cycle paths to help people get around.
Businesses can push for further improvements to our cycling infrastructure by joining CyclingWorks Bristol; a network of organisations that aim for better and safer cycling for commuters.
If you want help planning a route, whether it's for work, or a fun day out, Sustrans is a great resource.
If you don't have a bike, choosing one can feel like a big decision. Luckily, in Bristol there are a few friendly organisations that can help. Push - or manual - bikes are a greener option than e-bikes, because of the latter's reliance on a separate energy source, but bikes in general are a more environmentally-friendly option than most other forms of transport.
If you like the idea of cycling but aren't sure whether it's for you, you can hire a bike or take advantage of some of the bike loan schemes available to Bristol residents and businesses.
And if you're an employer or employee, why not consider joining the 40,000 other organisations in the UK and implement a Cycle to Work scheme, or set up a workplace challenge for your colleagues?
On your e-bike
Although the electronic bike was first invented in the late 1890s (yes, really!), it's only been in the last few years they've become a common sight on our roads.
While push bikes are greener than electric bikes, electric bikes are a more environmentally-friendly option than most other forms of transport, especially if the energy is from a sustainable, renewable source.
Electric bikes - or "e-bikes" - are battery powered which can help the rider cover longer distances than a push bike, meaning they're a great alternative for journeys that might otherwise be carried out by car or public transport.
In addition, e-cargo bikes, so called because of their capacity to transport goods, are becoming an increasingly popular option with both residents and businesses, who are looking for a greener way to carry shopping or deliver produce.
Unlike a motorbike that uses fossil fuels, e-bikes work in a similar way to electric cars in that their integrated battery needs to be recharged, although e-bikes can still be pedalled like a push bike and aren't solely reliant on a charged battery to work.
If choosing a bike feels like a big decision, Better by Bike can point you in the direction of where to buy or rent a bike in Bristol.
Going public
According to the Energy Saving Trust, one bus can take up to 75 cars off the road!
Travelling by public transport rather than by car is a better lower carbon option for longer journeys, and leaving the driving to someone else can be less stressful and give you time back for other things.
Bristol has a number of different public transport options available, including bus (and park and ride), train and ferry. Travel West has a comprehensive list of timetables and an easy journey planner on its website.
Over the next few years, public transport and infrastructure in Bristol will be developed and improved to support our growing population and meet environmental targets. Find out more about the exciting proposals for Bristol's public transport network through the City Council website.
Finally, although not a shared transport option, it's worth noting that along with neighbouring Bath, Bristol City Council is currently trialling the use of e-scooters for public use on the roads.
To hire an e-scooter, you'll need to download the app and you must already hold a driving licence and have insurance.
Power on
Next on The Transport Hierarchy are e-vehicles. Not only are they exempt from the pending Clean Air Zone charges coming to Bristol, but with production of new petrol and diesel cars set to stop by 2030, they'll soon outlive their less environmentally-friendly car cousins too.
Running on electricity rather than fossil fuels that cause toxic emissions and air pollution, e-vehicles (EVs) are the better choice for our health and the environment. So by switching to an EV from a petrol or diesel vehicle, you'll actually help to clean the air and reduce pollution, although for maximum green points, it's important to use energy from a truly renewable source.
As well as the benefits of going electric, there are further incentives and funding options to help people make the switch. More information about e-vehicles and energy sources can be found in our guide, and on the Travelwest website.
It's good to share
With a population set to hit half a million in the next ten years (source), demand for parking spaces in Bristol is understandably high.
Car clubs and car sharing offer a sensible - and more environmentally-friendly - alternative to owning your own car.
Sharing cars not only lowers the number of vehicles on the road, which reduces congestion and toxic air pollution, but is also better for your bank balance, and ride sharing can be a great way to meet people.
There are a number of car clubs in Bristol already, and the charity CoMoUK has a wealth of practical information about car, bike, e-scooter and ride sharing, with an interactive map to find your nearest vehicle sharing options.
Exhausted
It may come as little surprise that the least environmentally-friendly way to travel in and around Bristol is by petrol or diesel car.
Since 2016, transport (including road transport, railways, domestic flights, shipping and fishing) has emitted the most greenhouse gases in the UK with petrol and diesel cars the largest contributory factor to this.
They're also the biggest cause of air pollution, which is why lots of cities in the UK, including Bristol, are introducing a Clean Air Zone and mandating that production of new vehicles stop in just nine years' time (source).
So, where do you sit (or stand) on The Transport Hierarchy?
Are you already a walking warrior or a cycling superhero?
We'd love to hear your sustainable travel stories here at Action Net Zero, so do get in touch with us... and we might even feature you on our website!