Freewheeling with Leah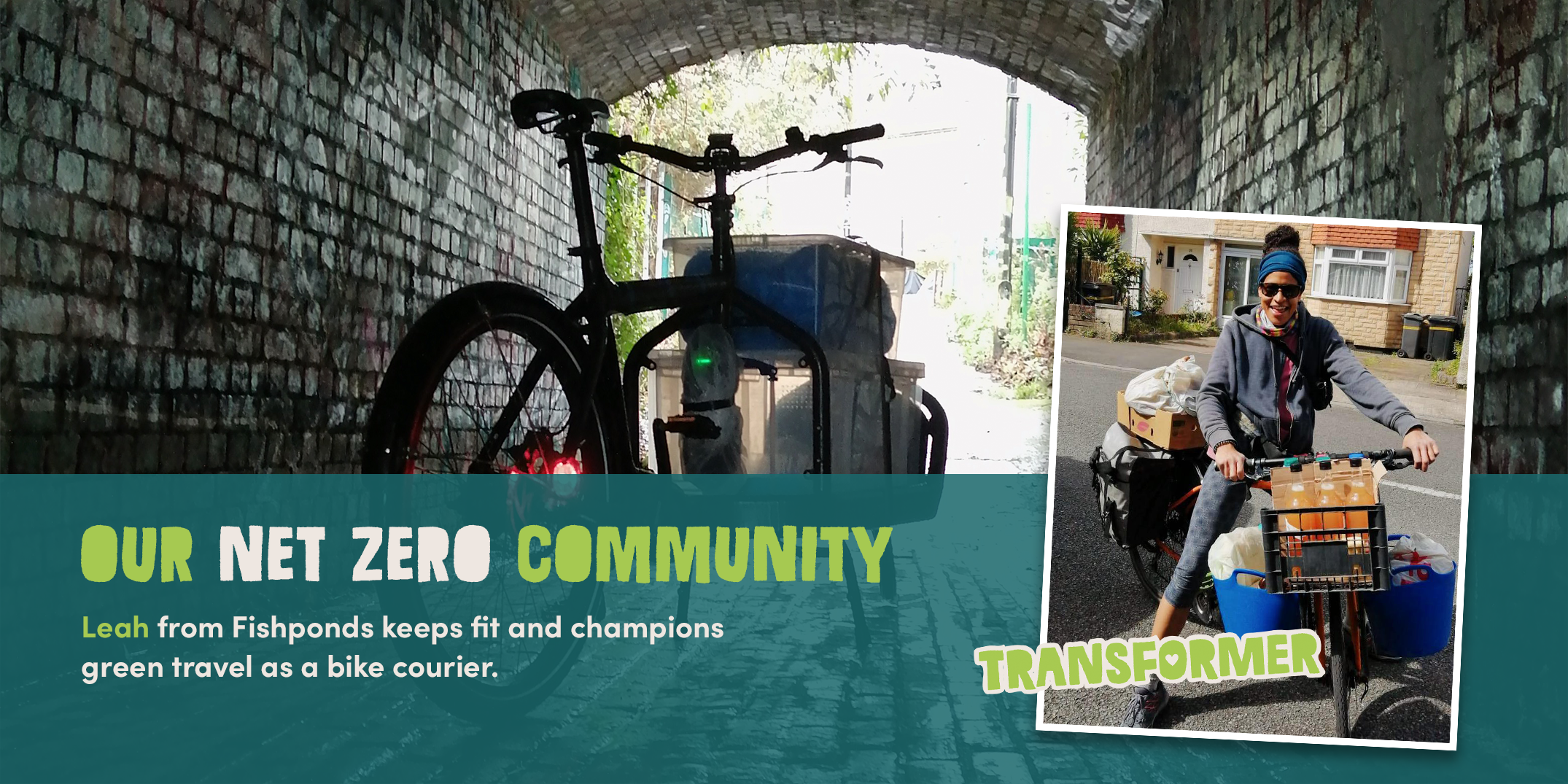 "I've always been motivated by moving my body in some shape or form."
A sports science graduate, Leah DeHaan, from Fishponds, spent most her twenties travelling the world, but it wasn't until she moved to Bristol in 2019 she found the confidence to realise her ambition of becoming a professional bike courier.
"I'd wanted to be a bicycle courier since I left university but I never did it because I was living in London and it would have been tight to make it work financially; or at least that's what I thought! When I came here it felt like the right time. There's something about the people and the energy in Bristol that draws people in and I felt the world was my oyster."
Although still a male-dominated sector, Leah is one of the few female bike couriers around Bristol and is encouraging of anyone who is thinking about entering the profession. Once she made the decision she says it was easy to get started;
"With companies like Deliveroo and Uber Eats, you can just sign up and start working, which is a great way to begin".
While some of us might only be aware of bike courier delivery for our weekend takeaway, more and more companies are starting to recognise the potential of last mile delivery by bike or cargo bike couriers; a trend that Leah has been able to take advantage of to grow her client base and her business.
"It might have been introduced as a way of getting food on demand, but I'm now seeing a change where I might pick up a new laptop or take things from one office to another. There are numerous high street retailers that outsource their deliveries and the companies they work with include cargo bike and bicycles in their workforce", Leah said, "so the potential is huge."
Although the majority of bike couriers travel by bicycle, Leah found that by using both pannier bags and even a bucket(!), she started to feel restricted by the amount she could carry. It wasn't until she started working with Good Sixty, an independent artisan food delivery service, that Leah experienced a cargo bike for the first time, which turned out to be a gamechanger for her business;
"I would collect everything from independents, such as Papadeli on Whiteladies Road, La Ruca on Gloucester Road, maybe something from St Philips then deliver straight to my customer who might be a mile away in, say, Montpelier."
"It showed that all this movement doesn't need to be done by car or van; it can be done by cargo bike."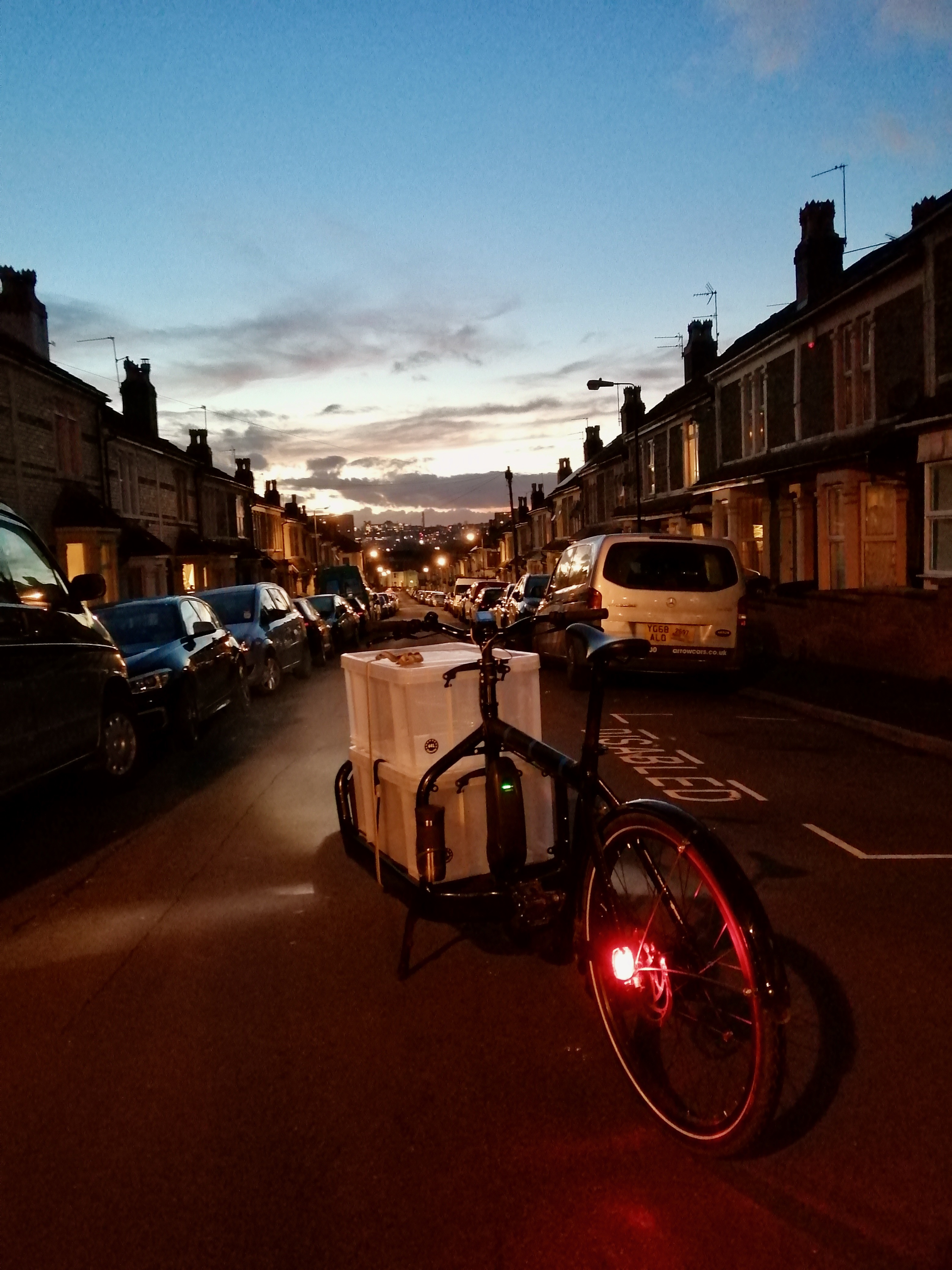 Leah feels a lot more are starting to realise the potential of outsourcing their fulfilment in this way, hence the rise of companies like Zedify which can provide e-cargo bike solutions for customers. Already popular in Europe, cargo bikes are starting to become a more common sight in the UK too and they're not just being used by companies to transport goods as some families are now making the switch away from a family car and using a cargo bike for the school run. Like e-bikes, e-cargo/cargo bikes are powered by electricity as well as pedal power and although the cost can be significantly higher than a more traditional bike, grants are available until 14 December 2021 that can cover up to 40% off the purchase price. Our partner, Eco-Move, based in Bristol, has more information on their website.
In 2019, Bristol was voted the UK's best cycling city, an acolade that is fully endorsed by Leah:
"Bristol is so accessible by bike! I love cycling around although you do have to get used to the hills and accept they're part of the experience."
"Focus when you're cycling up Park Street or Whiteladies Road before you get a flat… and just use the hills as an opportunity to exercise."
As the popularity of cycling for leisure and work continues, Leah is hopeful that our infrastructure will develop to support this where the different transport modes work in accordance with each other to make space for everyone on the road.
"We need more distinguished boundaries between different transport modes for safety and we need to respect other people's choices. At the moment it's a bit crazy because we're not sure how to interact with each other. It would be great to see infrastructure supporting what's happening at the moment in active travel for example, designated cycle, cargo bike and scooter lanes."
She also cites the need for more public charging points. With the rise of low traffic neighbourhoods, hopefully this isn't too far away.
"The next thing that's needed are public charging points for e-bikes. Say you stop off in a cafe, it would be great if you could charge your bike at the same time. For instance, the road in Cotham Hill is closed to cars now, so public charging points would support local businesses but it would also support a healthy city."
With her background in sports and passion for physical activity, Leah is a huge champion of cycling as a way to keep fit; both physically and mentally.
Last year, through the Bristol Cycling Campaign Leah heard about BYCS, a global initiative started in the Netherlands to promote cycling in cities and she was successfully elected as the Bicycle Mayor for Bristol shortly after. Although she's stepped down from the post now, she's still keen to promote the benefits of cycling to others and highlight how she's been able to earn a living from doing something she loves that has minimal impact on the city.
"I feel so much freedom when I'm on my bike and happen to earn a living from it too. I'm exercising and keeping fit, earning a living, helping the city and looking after myself. For me, being active is being sustainable as well and I really like that."
If people are thinking about becoming a courier, travelling more by bike, or making steps towards decarbonising their journeys, Leah advises taking small steps towards this;
"Think about the next step you can take. If you don't have a bike, maybe you could try one through a loan scheme? If you already have a bike, could you look at a cargo bike for family travel?"

If Leah's story has inspired you, sign up to our Transformer initiative, helping residents and businesses in Bristol make more sustainable transport choices.