Colin's electric journey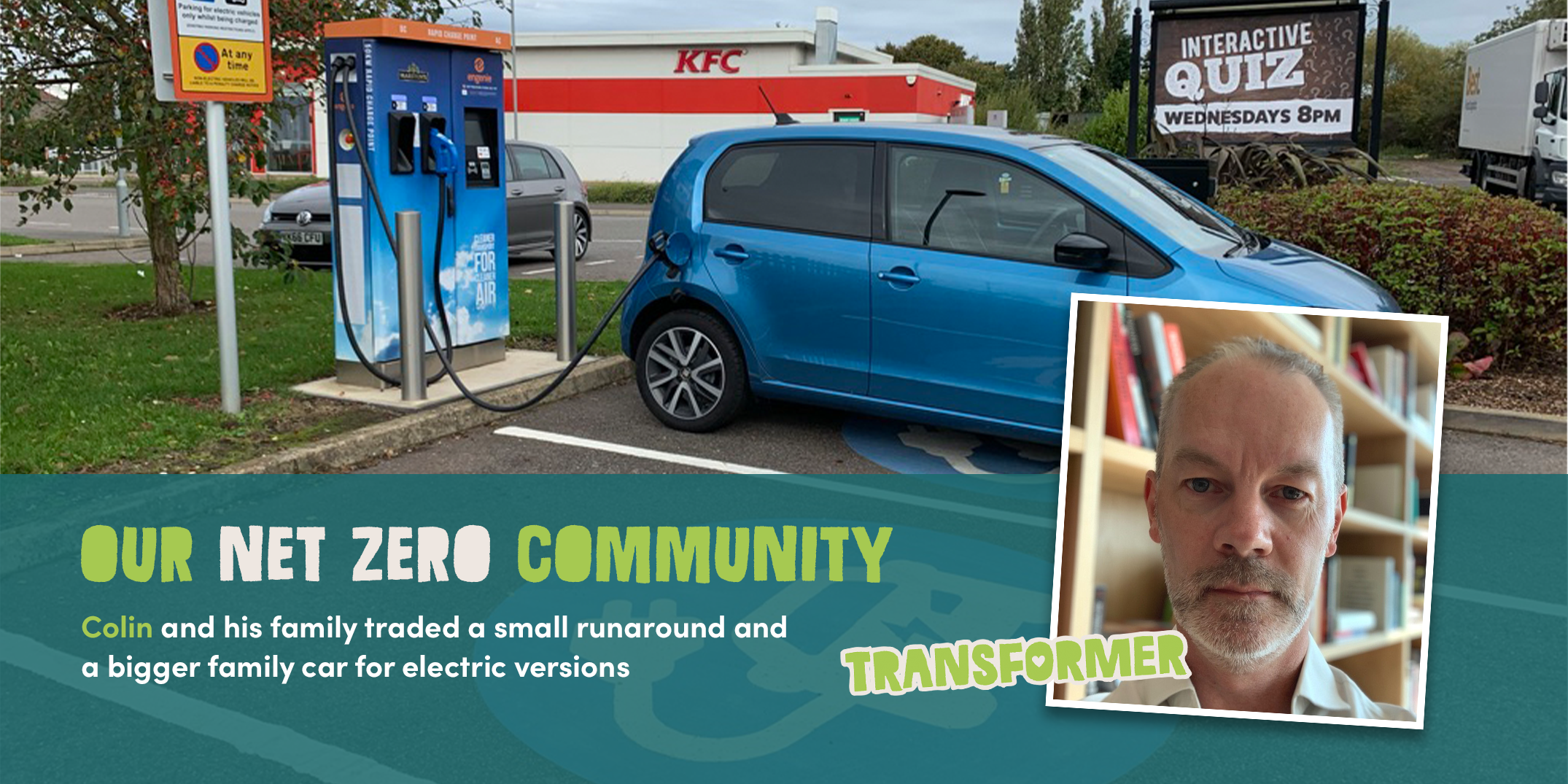 How Colin and his family traded a small runaround and a bigger family car for electric versions
Colin's journey to electric driving started in 2016 when he was watching videos on the Fully Charged YouTube channel and enjoying news stories about Tesla, and he started to appreciate the savings available from switching to an EV - as well as the opportunity to reduce his carbon emissions.
Colin's household has always championed green habits like recycling, but Colin fully realised the impact carbon emissions were having on the environment when dropping his son to school, watching exhaust fumes fill the air around the school as cars were left idling on cold mornings.
With a petrol Peugeot 5008 and a VW Golf R already on lease agreements, Colin set about investigating which EVs might suit his family the best, for journeys like the daily school run, commuting to offices within around a 20 mile radius, trips to the train station and around 5 longer trips each year, including an annual trip to Ireland.
Colin concluded that they'd need a smallish 'run around' in addition to a bigger family car, a similar size to their existing Peugeot. Colin test drove a BMW i3 and a Mini Countryman PHEV at the EV Experience Centre in Milton Keynes, and did some background research by listening to a EV podcasts, attending a few webinars and joining an EV owners group on Facebook, all with a view to gaining an insight into ownership experiences.
Colin's family had a target of reducing their outgoings anyway, so they settled on a budget of £300 per month for the smaller car. This put the Renault Zoe out of reach at the time - they considered buying a second hand model, but felt that the older Zoe's didn't have the range required for their lifestyle.
Colin settled on a Seat Mii Electric at £264 per month (£200 per month cheaper than the Peugeot!) through Pendragon Vehicle Management.
He had seen some really good reviews for the car, and since then it has become a firm favourite with the automotive press.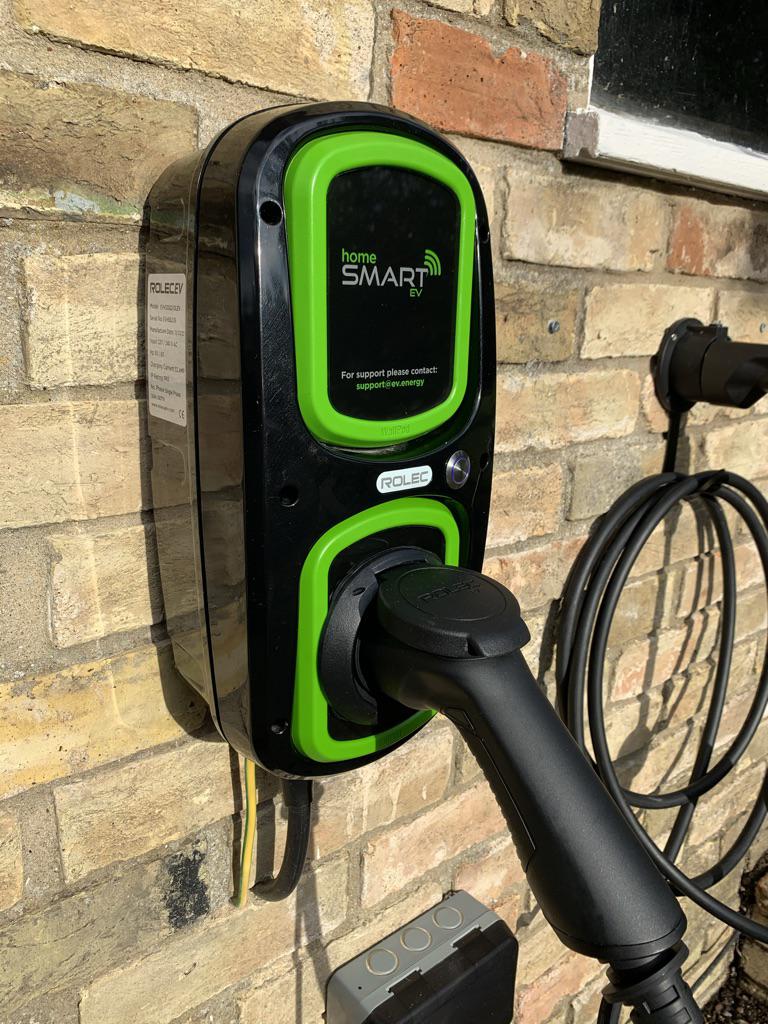 When looking for a larger car to replace the Peugeot, Colin found that there was less choice available, with fully electric options falling outside of his budget. Instead, he opted for a plug-in hybrid; a Ford Kuga PHEV, with the brand new model delivered on the 23rd of March 2020 (2 days before lockdown started!). Colin then set about arranging installation of a charger.
Being lucky enough to have a driveway, Colin was able to take advantage of the government grant, which gave him £500 off the price of his EV charger installation (now reduced to £350 until March 2022). £425 later (including the grant), he had a new Rolec HomePod charger installed.
Colin also took the opportunity to consider his energy tariff, to ensure it's cost-effective for EV charging, and after some straightforward comparisons settled on a fixed price tariff through Scottish Power.
Colin has since moved to Octopus Energy and their 'Go' tariff, which means he can fully charge the family's Mii for around £1.60 for 130 miles!
He also makes sure to charge at the 'greenest' times through smart charging, by allowing the charger do the hard work, and charging the cars while the energy is cheapest and cleanest.
As lockdown impacted his usual travel routine, Colin has yet to really compare the family's car use to a normal year of mobility. However, he would typically drive 12,000 miles a year, and in a year of using the Mii Electric with 8,000 COVID-adjusted miles it cost him £243.98. That's 3p per mile, compared to 17p per mile in his previous petrol car… an 82% saving!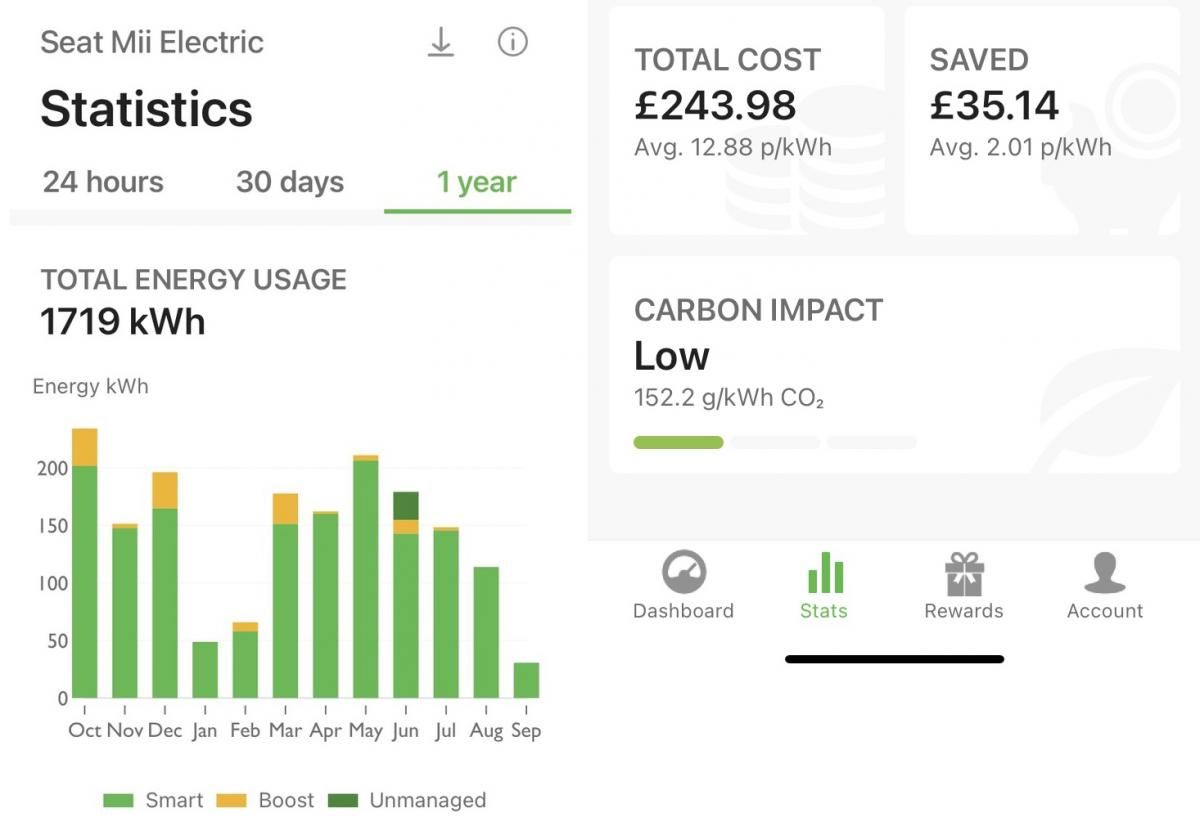 As the choice of EVs on the market has grown rapidly since his intial search in January 2020, Colin and his family are now starting the search for a family-sized EV to replace the current plug-in hybrid. He has the ID4 in his sights, and his employer is even looking to supply it via a Salary Sacrifice scheme at vastly reduced monthly rates.
Here's what Colin has to say about making the switch...
"To say we are happy having moved to an EV is an understatement. The next stage in our journey is to try to benefit even further from EV ownership; we're considering solar panels, which would provide for free mobility!
Then, we may look to rent out our charger via one of a number of community charger sharing apps. We'll be saving and earning from EV ownership!"
If you're ready to make the switch, you can read more guides and tips to help you get started with an EV right here.