How smart leasing helped Alex join the EV revolution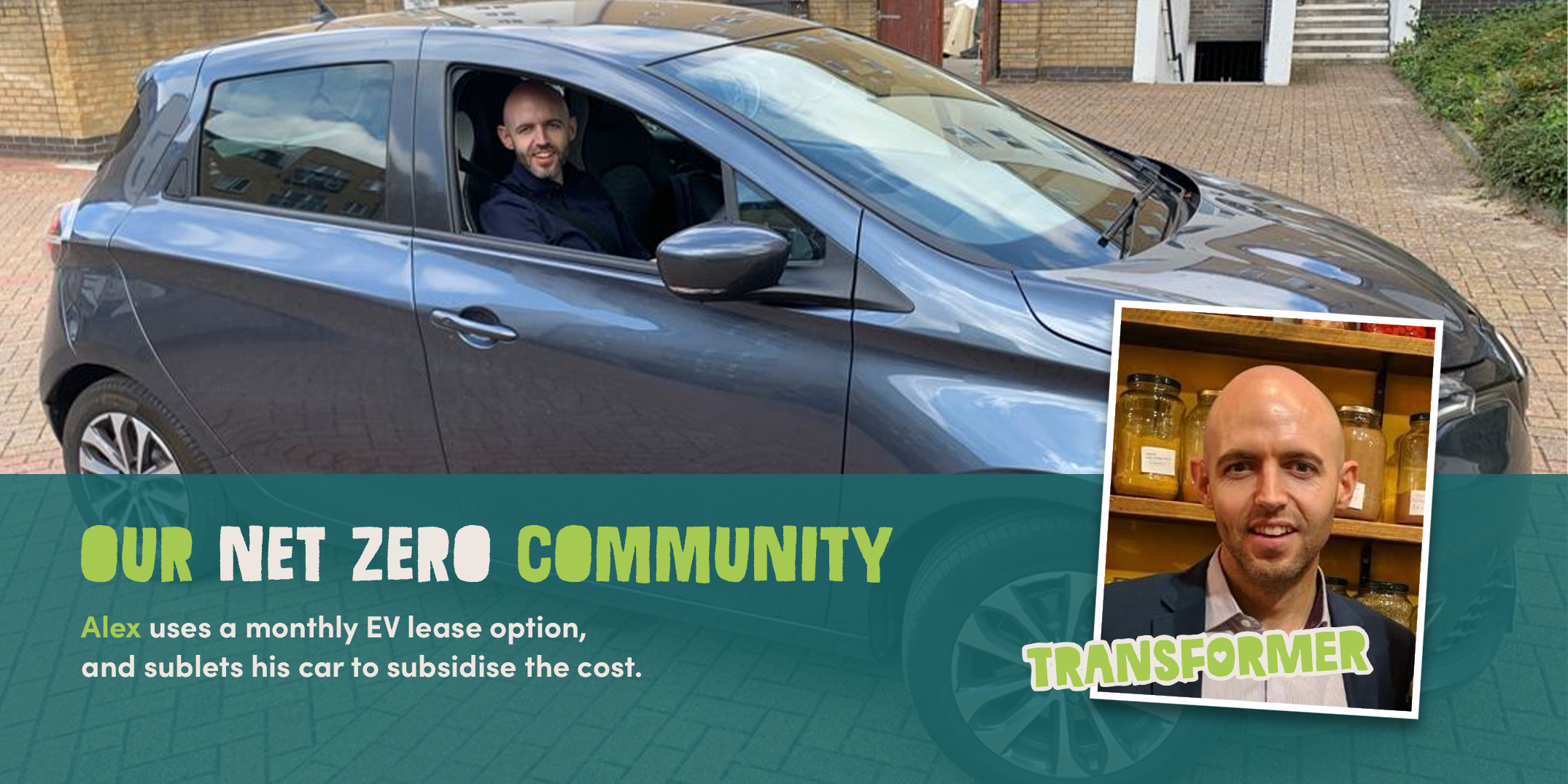 Find out how Alex Furey uses a monthly EV lease option, and sublets his car when it's not in use to subsidise the rental costs
Being a Co-Director at Zero Waste London and having founded Zero Waste Mindset, Alex Furey has inspired many people and businesses to live their lives in a more sustainable way.
Until last year, Alex was based in London and relied on his bike or the extensive public transport network to get everywhere, occasionally hiring an electric vehicle for longer weekends away.
But a move out of the city during the pandemic prompted him to rethink how he travelled around - especially with reduced public transport options - and he knew he wanted to do things differently...
"Electric was always the option given the nature of our work...and I felt I needed to be practicing what I preached."
However, work and financial challenges created by the pandemic had put his in-person corporate workshops on hold, so Alex was understandably cautious about taking on any big financial commitments.
He is also a passionate advocate for the increasingly popular "sharing economy", a community-minded model of using goods where we rent and share with each other rather than buy and own for ourselves, and Alex had recently set himself a personal challenge to live his life in this way. This meant that, while a second-hand electric car could have been an affordable option, Alex looked at the rental market instead.
It was important to Alex that any rental commitment was as flexible as possible in case his circumstances changed again in these uncertain times, so he was reluctant to be tied into a standard leasing contract of 18-24 months.
EV ownership made easy with a monthly subscription
After extensive research online, which - even for a sustainability expert - was "quite overwhelming", Alex discovered and signed up to a monthly electric vehicle (EV) subscription model that would give him the flexibility he sought.
The company also has an agreement with a car-sharing platform which allows him to sublet his electric car to others.
The monthly subscription model, plus the EV subletting option, allows Alex to have the most up-to-date car with the latest technology. The subscription model also means the insurance, tax and major repairs are taken care of by the company rather than Alex, and there are no hidden or unexpected costs which gives peace of mind.
A month in, and Alex loves the smooth and quiet experience of driving an electric car. As well as being easy to use, the latest models he's driven have a mileage range of up to 220 miles, which makes his journeys so much simpler.
The increased range means one charge can last for a round trip to London, or even a whole month of shorter journeys!
Easy charging included in the lease
Through his monthly subscription, Alex opted to pay for an additional service so he can use any of the 7,000 charging points across the country. Having to charge his vehicle has taken a bit of getting used to, but Alex is now familiar with where his local charging points are, and he's also used his Aunt's home charging point while visiting her.
Occasionally, he's arrived at a charging point and found it to be out of order. So he now reads other drivers' comments on the Zap-Map app in advance to check the status of the charging points he's planning to use.
To prepare for longer journeys, Alex plots his intended route against the car's mileage range, and this helps him to adapt his journey if necessary.
Earn money and charge where it suits you with Co Charger
Alex also uses the Co Charger service, which is provided by one of our Action Net Zero partners. Co Charger allows people with EV home charging points ("hosts") to rent their charging points to drivers who don't have direct access to one.
In keeping with the sharing economy model that Alex champions, the Co Charger service potentially opens up additional local charging options to whole communities, giving greater flexibility and choice.
During a recent trip to the Cotswolds, Alex contacted a local host in advance and paid to charge his electric car at the host's charging point while he went for a walk; the host earned money, while Alex enjoyed his day out.
Sub-let your EV and share the love!
Regarding subletting, Alex is able to offset the entire cost of his monthly rental subscription for just half a month. He can block out the time he needs to use it and when he doesn't, renters can unlock it remotely and are insured under their own policy.
"Our cars sit on our driveways or our streets and aren't in use for 80% of the time, so we should be looking to use our resources more efficiently. By sharing and renting cars or other items in our lives we can save or earn money in the process!"
For those thinking of going electric but concerned about taking the plunge, Alex advised renting an EV or using a car sharing app for a couple of days. This helps people get used to the handling, understand the practicalities and work out where their local charging points are.
"It may not be for you right now", Alex said, "but it's going to be in the future, so get in early and at least try it. I think the future is very exciting."
If you're inspired by Alex's story, you can read more guides and tips to help you get started with an EV right here.