Good Energy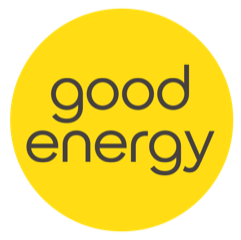 Good Energy has been providing homes and businesses with sustainably-sourced energy for over 20 years.
What do they do?
Good Energy powers homes and businesses with 100% real renewable electricity from a community of over 1600 independent UK generators. It also owns and operates two wind farms, including the UK's first commercial wind farm at Delabole in Cornwall, and six solar farms.
The first energy company to only supply 100% renewable electricity, the Chippenham-based company has been powering homes with sunshine, wind and rain for over 20 years. Good Energy offers electric vehicle charging for businesses and custom tariffs to suit electric vehicle drivers charging at home.
The only energy supplier whose tariffs are all Uswitch Green Tariff Gold Standard accredited, Good Energy is an Ethical Consumer Best Buy and rated 'excellent' on TrustPilot.
Why do we love them?
Good Energy enables people to be part of the solution to climate change by providing truly renewable energy to homes and businesses that can power how we live, work and travel.
"One of the big challenges we need to address as we transition to clean transport is how we make it straightforward and fair for people to charge their electric cars with real renewable power. As a company on Bristol's doorstep and with strong roots in the city, we know that if it's possible to create a new kind of community-based clean transport scheme anywhere, it's possible in Bristol. In keeping with the city's history as a leader on environment and climate action, Action Net Zero Bristol looks set to create a blueprint for other cities to follow."
Nigel Pocklington, CEO of Good Energy
For more information, take a look at the Good Energy website.